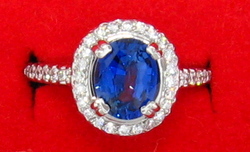 At the shop, all of us have designed one-of-a-kind jewelry.  Very often we are using a customer's gemstones for such projects.  It starts with a design, requires a one-of-a-kind model to be made, and from that, the piece to be cast, the stones to be set, and the piece polished.  It costs a little more to do things this way, but it creates a wonderful, unique treasure that will fit some of the beautiful gems a client may have.
Sometimes you just want a classic piece; a sapphire and diamond ring, for example.  For this you can come in and just buy from what a jeweler has in stock, or it can be made to order.   A made-to-order design starts with figuring out what the client has in mind; size and shape of the gemstone, type of setting, quality they are looking for, and their budget.  This allows us to fine tune the jewelry to their taste.  We can get sample rings from some of our manufacturers and gemstones from our cutters, so we get to show the various qualities that are available and the customer can mix and match qualities and options.  It is truly fascinating and fun to see the differences in varying qualities of the same gemstone side by side.
The benefits of made-to-order jewelry are that it is faster and more cost effective than custom designing a one-of-a-kind piece and it allows the client to have greater input in the design and really WOW their partner.